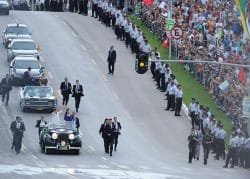 We provide personal protection services all over Turkey. We do risk analysis, electronic insect search, detailed security service. Your investments in Turkey are safe with the  Altay Security company.
Vip Security services, International experience, the Altay Security
The Altay Security guarantees individual escort and personal protection for individuals and groups, as well as for families with special security needs.
The aim of our professional İstanbul Bodyguard Service is the defense against potential dangers and the avoidance of attacks against life or the freedom of action and movement of our clients.
The Portfolio of our İstanbul Bodyguard Services offer includes:
Escort
Preliminary reconnaissance
Prevention and de-escalation
Driving services and chauffeur service
Extended property protection measures
Travel management
The professional personal protection we offer is characterized above all by maximum efficiency, precise and conscientious preparation, and the highest level of discretion. We operate internationally and in multiple languages with male and, increasingly, female bodyguards.
Our highly qualified bodyguards guarantee individual security and support in national and international operations including İstanbul. In this demanding service segment, what is feasible is defined by the legal requirements of those countries in which we provide our services to our clients.
Our complex protection concepts guarantee the highest level of personal security with the least possible impairment of your privacy.
Indirect personal protection, educational measures, and escort protection
Early detection of threats to people and objects to prevent criminal offenses
In the event of a specific risk situation, the direct accompaniment of the protected person (s)
Immediate intervention/reaction in the event of suspicious perceptions and the event of an alarm
Property protection measures
Houseguarding (preventive measure for property security) e.g. during vacation, school, or business trips
Our employees are former members of security agencies such as the police, military, and intelligence services and offer inconspicuous and effective protection.
Observation
Discreet, covert reconnaissance to identify preparatory actions for criminal offenses at an early stage
Security Analysis
Analysis of vulnerabilities/threat scenarios
Assessment of personal risks
Analysis of the routine routes
Object auditing of the relevant residential property
Review of technical property security
Screening using Open Source Intelligence (OSINT) / Social Media Intelligence (SOCMINT) to determine the potential risk
Contingency Plans and Emergency Measures;
Creation and regular updating of a contingency plan
Personal security dossiers including forensic examinations (e.g. DNA analyzes, voice and written samples, etc.)
365 days of crisis hotline for security-relevant emergencies
Safety training
Behavioral and safety training (practice-related, country and topic-specific)
Awareness training and awareness training, also for adolescents
International security
Leverage the worldwide Result Group network of security experts
Use of the country database with security ratings when traveling